The Lost Tales of Axeoth 09/11/2015 |

890

Комментарии
Dear Might & Magic and Heroes fans,
2015 marks the 20th anniversary of the Heroes series, and to celebrate these two decades of strategic quests, the Might & Magic Heroes VII team is proud and honoured to invite you back to the lands of Iranese, on the world of Axeoth, for two brand new adventures penned by Heroes IV's legendary storyteller, Terry B. Ray.

As you already know if you've watched our live stream dedicated to maps and mods on September 9th, we were able to unearth two scripts originally written for Heroes IV but never produced back then:
Unity
and
Every Dog Has His Day
. Featuring a cast of both familiar characters and new faces, these
Lost Tales of Axeoth
will finally come to life in Heroes VII in the form of two
free
campaigns that will be released through patches in the coming months.
The first one,
Unity
, will be released in
late 2015
. Players will take control of the Academy faction across 5 maps. The story follows the characters Genevieve Seymour and Pherlon as they embark on a journey to the Broken Isles in search for a greater understanding of magic. Genevieve knows in her heart that in the past magic users have forced magic into an unnatural organization based on the elements. There must be another way… and Genevieve is determined to discover it.
The second campaign,
Every Dog Has His Day
, will be released in
early 2016
. Players will take control of the Stronghold faction across 3 maps, and more specifically the barbarian hero, Dogwoggle. At the height of his career, Dogwoggle was one of King Kilgor's barbarian generals, but he soon learned that Kilgor was quite mad and leading the world of Enroth toward destruction. Having managed to flee to Axeoth, Dogwoggle now finds himself hunted by his former allies. As it turns out, Dogwoggle might be slightly responsible for the end of the old world…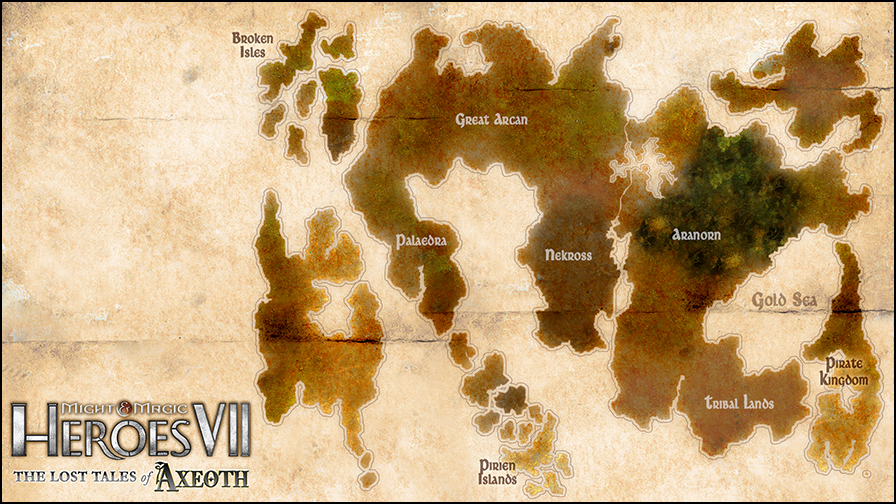 Iranese, one of the continents of Axeoth, where the campaigns of Heroes IV took place.
Apart from the brand new maps and storylines, the
Lost Tales of Axeoth
will feature new content that users will be able to freely integrate into their own maps:
68 new Hall Heroes, most of them based on the original art of Heroes III and IV's portrait artist, George Almond.
8 new Story Heroes, including main characters Genevieve Seymour, Pherlon and Dogwoggle, as well as their friends and foes.
Several Heroes IV music tracks used under license from Rob King and Paul Anthony Romero, to recreate Axeoth's enchanted atmosphere.
And of course… surprises!
Last but not least, we've asked Terry Ray himself to tell us more about these two stories, and about his experiences working on Heroes IV.
You can read it here
:)