The Journey of Ivan's FIgurine 09/14/2015 |

48

komentarze
Hello Councillors,
Today we would like to share with you an article about a secondary journey of Ivan during the development of MMH7.
Indeed, Ivan not only conquered the throne in the world of Ashan but also the top spot in MMH7 Collector's Edition! We know some of you are enthusiast collectors and so wanted to give you an overview of the creation process of such figurine from the early beginning to final production.
First of all, this was an evidence that we would create a Collector's Edition for Heroes VII and the figurine was for us a mandatory content for such version. Since game scenario is based on the ascension of the warrior Ivan, we decided to dig the possibilities offered by such character.
To do so, we started to draft various posing to identify the best concepts we could come up with. Our artists proposed almost ten of them and we had in addition to select to the best potential ones, be sure that those were also technically achievable. This is an important step in figurine creation since if your concept is not well-balanced, it will break eventually or just seems "odd" in the end.
Moreover, we did some "live-testing" to verify the coherence of those posing by taking picture of team members levering swords!

Some Ivan's posing concepts
After internal deliberations, 2 models stood out and even if we had our own preference here, we really wanted not be the one deciding in the end since a collector is first and foremost for the fans. Thus, we reiterated those 2 concepts to propose full 2D arts for both of them and put them to vote in the Shadow Council. After a full week of debate and vote, you decided to go for Ivan the Strategist!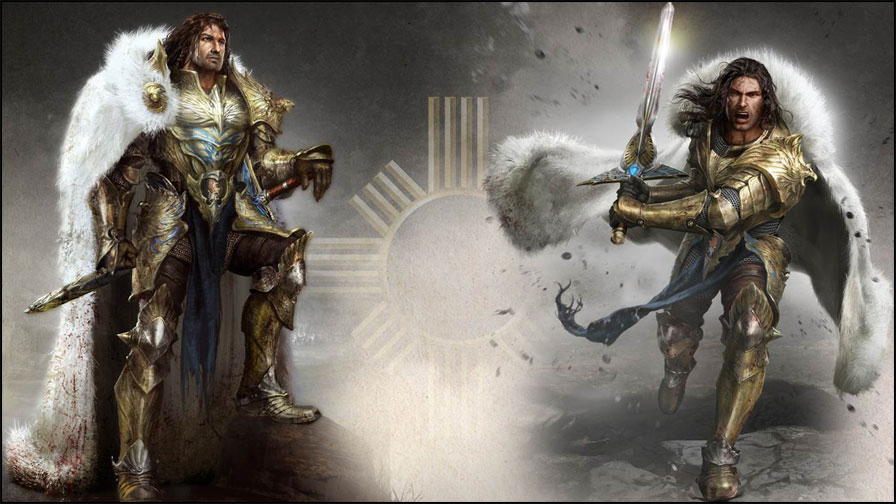 You have chosen: The Strategist!
We then took this result and contacted an old fella: Hugues Martel, former artistic director for the Might & Magic franchise. Hugues is now in charge of a company called Pure Arts, dedicated to the realization of quality figurine especially for the Gaming industry (you might already have seen some of their previous creations on other games).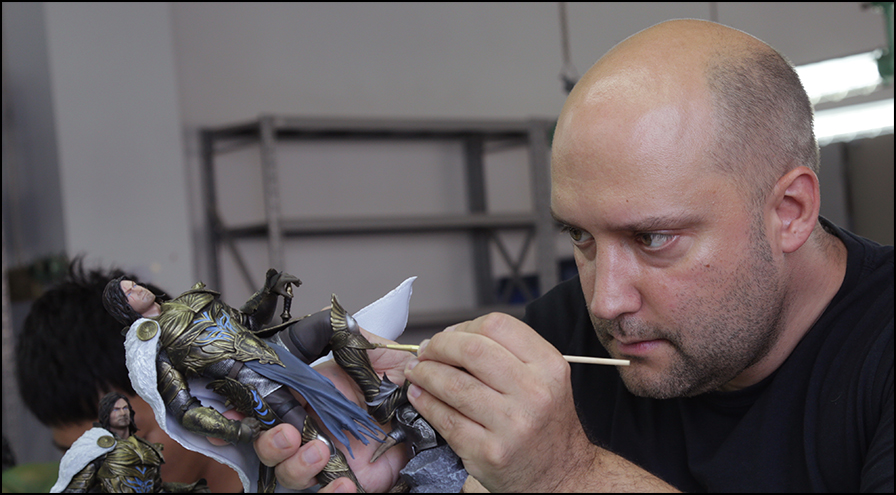 Hugues finalizing Ivan's polishing
A few words from Hugues:
What is your connection with the M&M Franchise?
Hugues Martel: Might & Magic is a franchise really kind to my heart and I had the opportunity to develop this universe as Senior Artist Director during several years. Even today, I'm still regularly involved in design meetings for the development of potential new games in the franchise. This was for me a great pleasure to return to my "old loves" with the creation of this new figurine for MMH7.
Do you have any anecdotes to share concerning Ivan's figurine?
Hugues Martel: During the creation process of Ivan's figurine we listed the death of 1800 paintbrushes, only by doing the "gold brush" on his armor! Moreover, all "blood" drops on the bottom part of Ivan's cape were produced with the good old method of the "toothbrush splash". However, we lost track of the number of victims here.
A first prototype was elaborated entirely by hand with clay based on our 2D art. The objective of such preliminary step was to confirm the feasibility of such creation but also its potential final quality.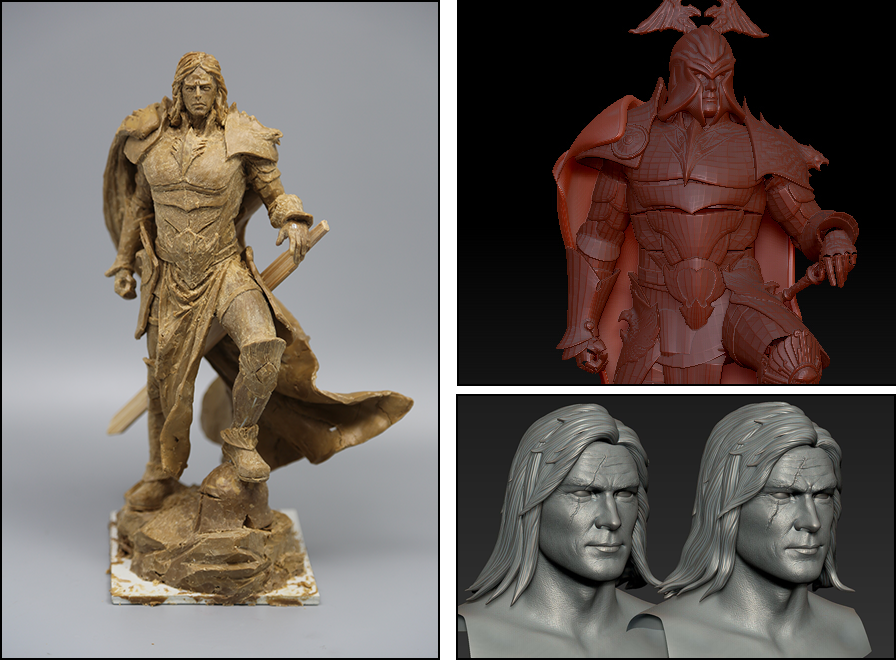 From clay prototype to first 3d renders
Excited by this project kind to his heart, those specialist really wanted to obtain top notch quality with this figurine and decided for the following steps to create a full detailed 3D model of Ivan. Thanks to the CGI trailer of MMH7 announcement we already had the face of Ivan but all the others parts were still to be worked. Pure Arts decided to create their own 3D model of Ivan allowing a perfect anticipation of their future needs.
First render already was surprisingly good but we still made some changes to make it even better. Some fans requested a helmet during the vote and we also wanted to see what it could bring to the character so we made the decision to propose both of them! One head with a face, one head with a helmet. By using different heads we were also able to ensure a better sturdiness of this griffin armor piece. Designing the helmet was quite an adventure since we had no visual for this one ready. After researches we found in our database an old visual with a suiting helmet but the picture size really was "small" so we had to entirely redesign it from this reference.
Moreover, on the original concept Ivan was putting his foot on a rock but he was more than just posing here so we shifted this for a Stag helmet, crushed under the will of this fierce warrior.
Some elements were particularly difficult to design since they could become the weak points of such figurine and could easily break, for instance the sword and cape. A too heavy cape could also make the character fall down. Thanks to many iterations, we managed to ensure a well-structuring of the whole concept.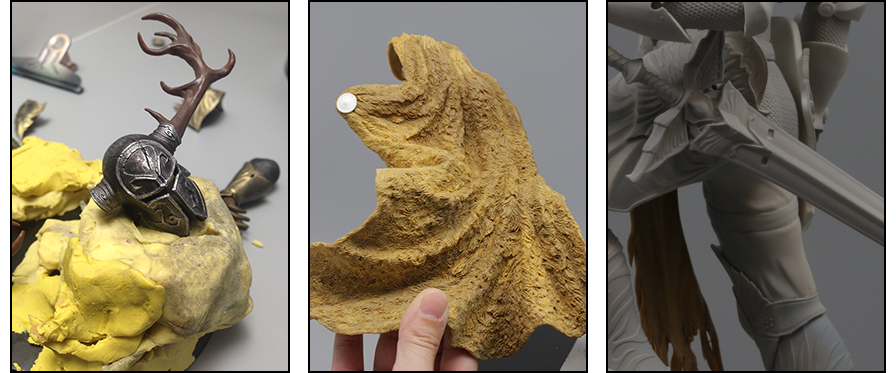 After weeks of work and conception a final prototype is realized and would become the basis for ultimate review and tweaking. This prototype was stressed in various ways such as colors quality, shape resistance, no breaking elements, stability etc.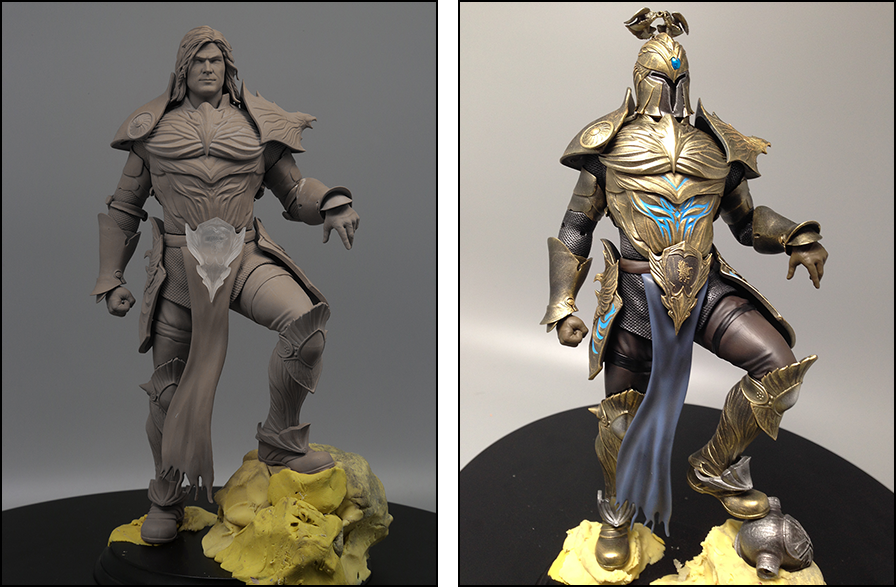 Final Prototype is coming!
Once this review was done and the final prototype approved, we were finally able to launch the production of the figurine in order to be able to meet delivery deadlines of the Collector's Edition.
The final step was to conceive a box that would be able to pay tribute to this figurine while integrating all different elements of the Collector's Edition: Artbook, litographies, tarot game and soundtrack. It is now time for us to conclude this journey of Ivan with its final version featured in his own diorama!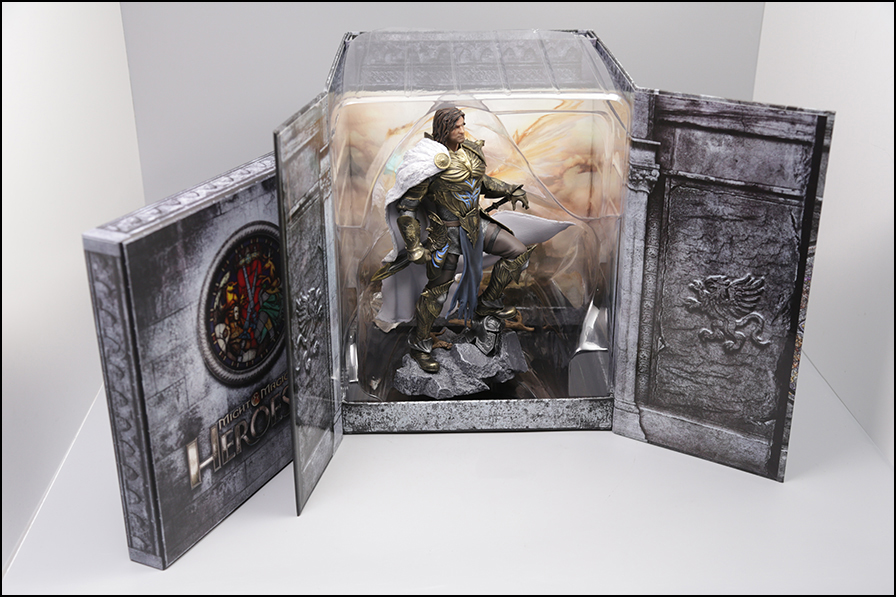 Ivan is now ready for battle…