Hello Heroes,

In the past month our team has been working hard to provide numerous fixes to the game and we will continue to do our best to improve your experience with Might & Magic Heroes VII.

Whilst many crashes, bugs and other issues have already been adressed we are more than aware of the remaining challenges in front of us and would like today, to give you additional insight regarding some of the 'Hot topics'.


Thank you for the community feedback!
Early last week we reached out to various different communities and asked what you would like to see changed within Heroes 7 to give you the best user experience. We let the threads evolve over a week and then collated all the information. With that, we then made a top 10 list of the most frequently requested ideas, sat down and discussed what is actually feasible to add to the game with the various restraints that come with game development.

As such, we are happy to present a list of the community changes we've seen, acknowledged and are now working on implementing to the core of the game.

A quick disclaimer. We will not be able to provide any sort of ETA or timing for these changes, even you will see some of these deployed already with the next upcoming patch. The idea is that we want to make sure that when they go into the game, they are working as intended and do not break anything and some stuff simply takes longer than others.


Presentation
For many players, game saturation levels were not satisfying and the game appeared not as colourful and magical as a Heroes title should be. As such we have decided to do a re pass of saturation, contrast and color to every single adventure map in the game to make things brighter and more immersive. We hope with this change people will find the game more pleasing to the eye. This re-work goes along with an option to enable/disable the distance fog if you zoom out on the adventure map. With the upcoming patch the distance fog is disabled by default and a more reduced version of the distance fog can be enabled within the game options.

Please find underneath some "before/after" examples as a first preview of these particular changes.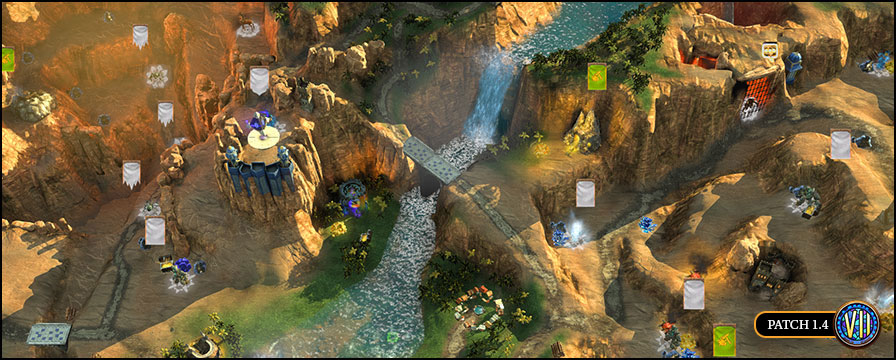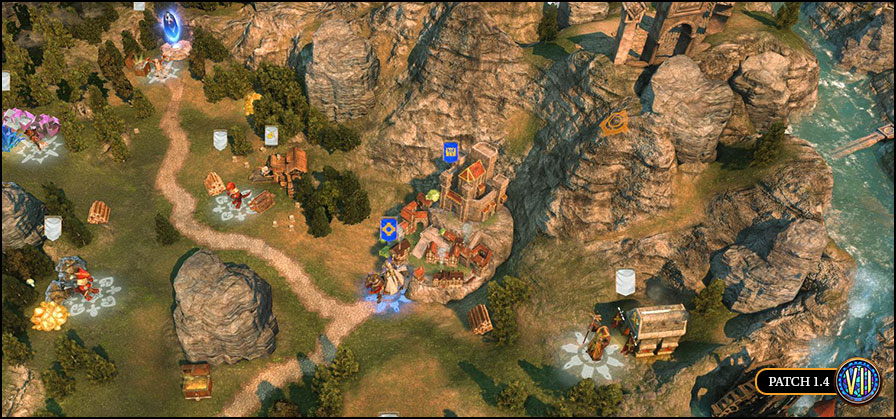 Tutorial
Another widely regarded request is the addition of a tutorial. With all the intricacies and nuances that come with the Heroes franchise, it seems necessary for us to propose a tutorial for newcomers but also veteran players wishing to discover new features. As such we are developing an entirely stand alone map that will help pave the way for a new player to ease their introduction into the game. In the meantime we added a "suggestion" for new players to start with the Haven campaign as this campaign can be considered the easiest of the campaigns for starters. Finally we added various tutorial videos for beginners until the tutorial map is implemented to the game in a future patch.
Tutorial videos direct links:
| | | | | | | |
| --- | --- | --- | --- | --- | --- | --- |
| | Tuto 1 - Basic Gameplay : | | | | | |
| | Tuto 2 - Townscreen : | | | | | |
| | Tuto 3 - Battles : | | | | | |
| | Tuto 4 - Skillwheel : | | | | | |
Performance
Big strides have come about in performance and after much testing and optimization we are pleased to say we've hit a really big mile stone in terms of memory reduction and load times. Memory usage has essentially been cut in half on a map by map basis. With this comes a big reduction of load times and overall performance will have noticeably been improved.

To share some visibility on this subject here are some details:

// Please keep in mind that results can differ from one machine to another one. This chart only aim is to show the improvements on a specific setting with no other modification than the game version.
1. Loading time
With the upcoming patch 1.4 you should be able to experience better loading times on all maps but also when launching the game itself. Of course results can differ but please find underneath a test we ran on a single machine with both 1.3.1 and 1.4 patches.
As you can see, on this setup loading times were cut in half (and more) from ≈38s on Patch 1.3.1 to ≈15s on Patch 1.4.
2. Ram consumption
Some examples of RAM consumption optimisations:
| | | |
| --- | --- | --- |
| Map | Before 1.4 | With 1.4 |
| Dungeon Map_1 | 5.2 gb | 2.8 gb |
| Sylvan Map_1 | 5.1 gb | 2.9 gb |
| Stronghold Map_1 | 5.0 gb | 2.7 gb |
| Academy Map_1 | 5.3 gb | 2.9 gb |
| Haven Map_1 | 5.33 gb | 3.0 gb |
| Necro Map_1 | 5.33 gb | 3.0 gb |
One of our goal with this procedure is to ensure 32bit OS compatibility with a ram consumption inferior to 3,2go during the full game experience, we will keep you updated on this topic in the upcoming weeks but the team is aiming for a compatibility before December.
Heroes
We are currently discussing the possibility of removing the Level cap entirely. With this we would then look to implement a skill cap so you can't just get every skill. This change will only apply for skirmish maps. To coincide with this we are looking at ways to make heroes feel more unique by having different abilities. The goal is to add more unique and specialised roles to offer more diversity and replayability. Think along the lines doing damage at the start of combat or providing some sort of passive buffs. Again, this topic is still in discussion (no ETA to share) as it has various side effects on the current implementation.
Balancing
As the game has now been out and had enough time to start really being played we will start slowly implementing more major balance changes. Balancing is something that is always being looked at and worked on. This is something the community can help us in massively with your feedback and support on what you feel needs addressing.
Multiplayer
Since the release of the game, our top priority was to improve gameblocking bugs and crashes related to solo-player modes. Even though we have patched various out-of-sync issues with the last patches you are still experiencing way to many desync situations and we apologies for the frustration it causes. Today, we are now able to gradually shift from this situation and already involved more developers in the multiplayer topic. Upcoming patch should propose a first batch of improvement and fixes for out-of-sync issues in adventure map to be followed by additional ones in the future updates.
Editor
The editor is an ongoing task as well. Thanks a lot for everyone who already started developing maps. We will make sure to constantly improve the editor and we are looking forward to introduce a Steam Workshop support in the future.
----------------------------------
These above changes are some of some of the most highly regarded and spoken about topics within the communities. As you might have noticed members of the dev team are doing their best to be present within various communities – so rest assured we are following the discussions on a daily basis and we will continue to review your feedback
Patch 1.4.
We are currently waiting for the greenlight for patch 1.4. which should be released in the next few days.
Regards.
MMH7 Team.