Introduction to modding in MMH7! 07/31/2015 |

1326

kommentare
Hello dear Councillors.
After Marzhin got our
creative juices
flowing with his great
introduction into the editor tool
, I have today the pleasure to come back to this topic to give you a first glimpse of the modding in MMH7!
First of all, even if the "default" editor provide a lot of great features and customization possibilities, what will be presented today is mainly based on the use of the "advanced" view of the editor. The following content is only a tiny selection of what you can do thanks to Unreal Engine's flexibility, and we are sure many of you will be able to go even further with some sweat.
We will, in the future, provide more in-depth guides on using the editor. We hope that you will also be able to master the tool and bend it in your own way. However, the tool also has some limitations and you won't be able to break all the "rules of the game" and ultimately it will still be a Heroes game.


As your host for this first tour, I will present you some "easy" modifications I was able to do on my own, bearing in mind I do not know a lot about 3D modeling or development in general.
Today we will present you 3 short examples of modding through the editing of: one Hero, one unit and one town.
Please keep in mind that those examples where prepared on a very limited lapse of time and there might have some visual glitches that could be easily fixed. Moreover, the tone of this article will be a bit different from usual but I really wanted to share the fun I had while preparing it so please forgive me! :)
---
Before we dive right in to our examples I would like to make something clear about the modding in MMH7. You will not be able to "directly" mod the game files but instead be able to duplicate any existing content, for example towns or heroes. From here you will be able to edit them however you see fit.
By doing so, you will be able to create new "packages" containing your modifications or newly created content. MMH7 Modding is "map-based" meaning that if you create a map using a specific package or modifying specific files, those modifications will be directly available in the map itself so people won't have to download additional elements.
This would also prevent data corruption for the game itself since it won't interfere with "vanilla" content (for instance, official Campaigns will not be altered by the modding). Every map will be able to have its own set of content and specific tweaking, nothing too taxing but just something to consider :)
For example: you could duplicate the Academy town and use it as a basis to create a full new town or only edit a few values (this package could be called "AcademyV2" or "Sorceress Town" etc.). This package will be directly available within the map you are currently working on but you will also be able to use it in your future creations and also share it with everybody so they can use it in their own maps too.
---
Heroes
As mentioned previously, you will be able to create your own Heroes with unique portraits thanks to the
default
editor. The "advanced" mode will allow you to go even further with the possibility of creating or modifying existing Heroes on a great list of elements.
Basically, this is our development tool so you can already imagine the potential.
Let's use the following Sylvan Hero as an example: Sailin. As explained before I will first of all duplicate this package to enable editing.
For our test we will begin by replacing Saillin's for Jenova's Heroes III model.
In the editor you can use the research feature to find all the elements associated with a specific feature (hero, unit etc.) – after a while you will be able to understand by yourself the hierarchy of the elements and find them on the go.
Concerning the visual part, we will stick to basic changes:
The portrait: right click, replace and there you go.
2D model (for Hero window): for this one we are going to use the amazing work of the DeviantArtist BasakTinli
3D model textures: as explained before, I won't go for a full 3D model change by myself, but it is really easy to change texture file for color swapping, detail modifications etc.


Sailin is changing…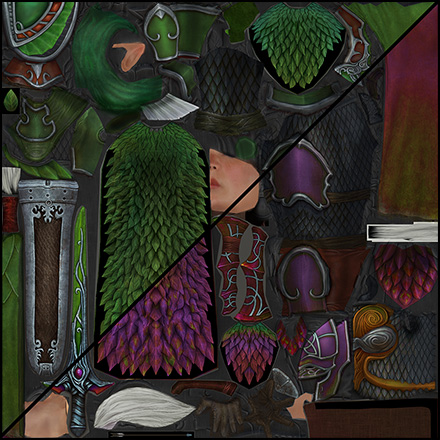 A quick texture editing before/after (hue modification only but you could do a lot more)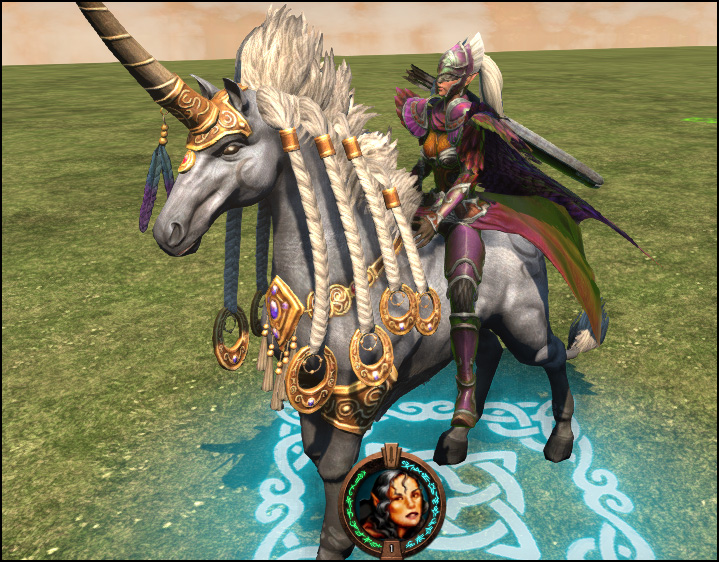 From texture editing to 3D result (don't judge my tastes, this is a test only!)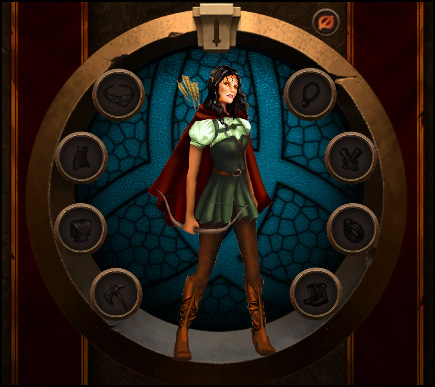 2D model by BasakTinli
in the Hero Screen


Now that we are done with the visual aspect of this Hero, we will go a bit further with some property editing. The list of available properties would be too long to detail in this article but let's take some examples.

First of all, thanks to Sailin's archetype I will not only be able to change her Class but also modify her Skills (select existing ones, duplicate to edit them etc.).

Keeping in that direction, I will also modify the specialization of my Hero to fit with Jenova's true one: "The hero provides 350 gold per day to this kingdom." (Delver of the Royal Purse in MMH7).

I won't go into details for now concerning the folllowing properties window but as you can see you have many editable categories and subcategories. Every time a magnifying glass icon is displayed, it means that this element is defined by another package that you could also duplicate and edit.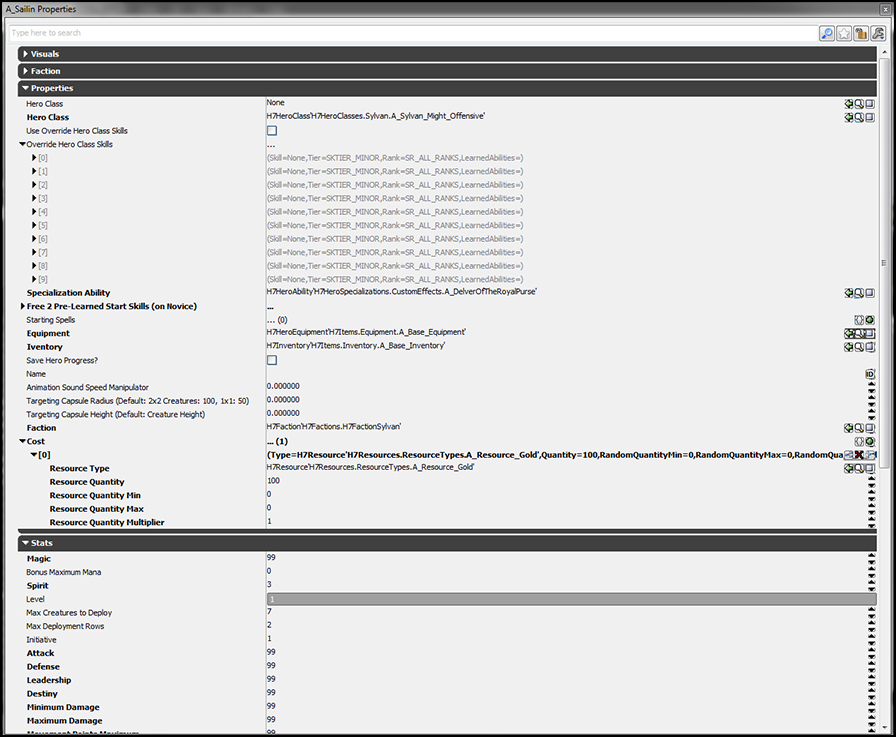 Extract of a hero property window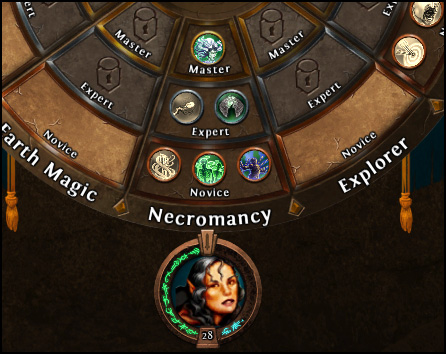 Well maybe Necromancy was a bit too much...

There are also dozens and dozens of stats/properties/packages/etc. you should be able to edit but we won't go any further for today regarding Hero modification. Even so, just to give you some ideas, in addition of being able to change Skills I also managed to modify/create spells and reorganize them.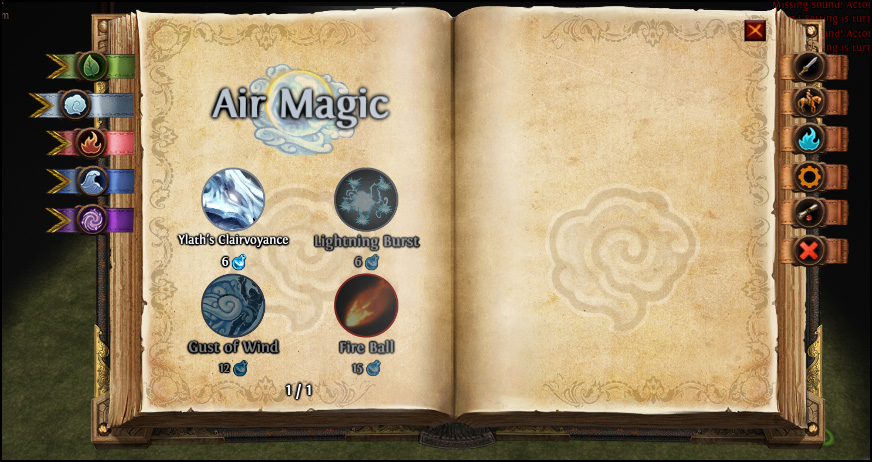 The windy Fireball!
Unit
The subject of our next experiment will be the Cabir Master. This is a sweet, cute, small creature. Not for long with his new cousin :)

After duplicating the Cabir Master, we will edit this new creature with the name and portrait of an old fella, welcome back Master Gremlin! We will slightly tweak the texture pack to change the color.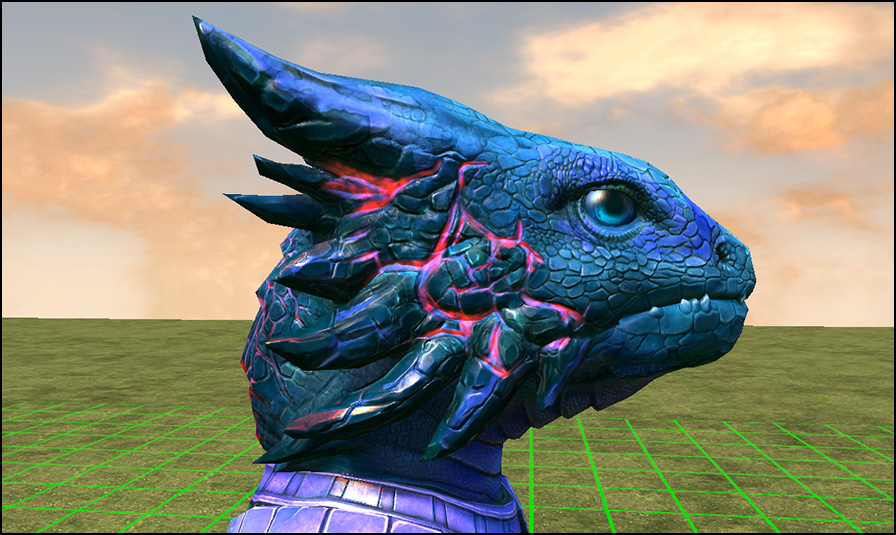 Again, there is a lot I would be able to change here such as growth, cost, 3D/2D models, icons, stats, size, animations, sounds and so on. For now we will keep it simple with a boost of this creature power.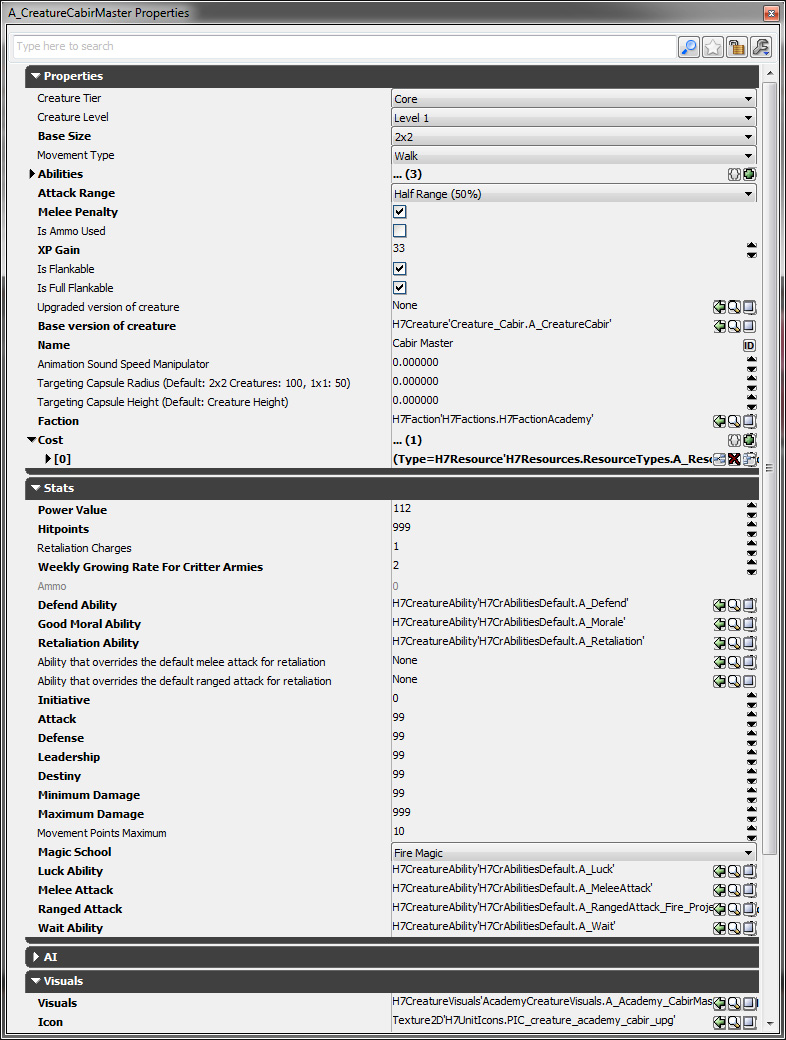 I'm happy to introduce to you the new Giant Cabir/Gremlin! ( Unfortunately it seems this screenshot was taken before changing the name). Yes they now have resurrection, why not? Indeed you can add/change creature's abilities too :)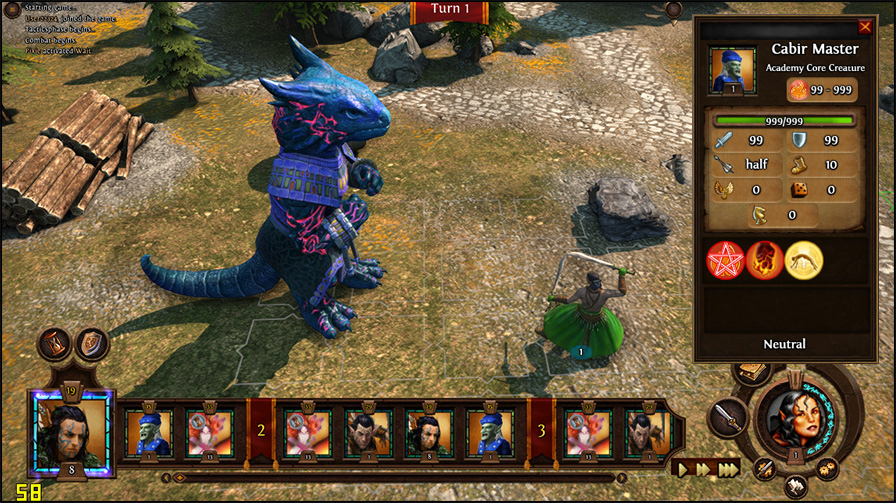 If you are really invested (including 3D artists such as some of you at
Heroes Community
:)), you will also be able to duplicate creatures and create new neutrals, replace creatures or even create your own faction…. Everything is here.
Town
Let's conclude this second article about the map editor with some town customization.

As you can see underneath, there are even more editable properties for the towns (names, cost, assets, stats etc.) and you will also be able to edit each building one by one. You'll never be wanting for things to do!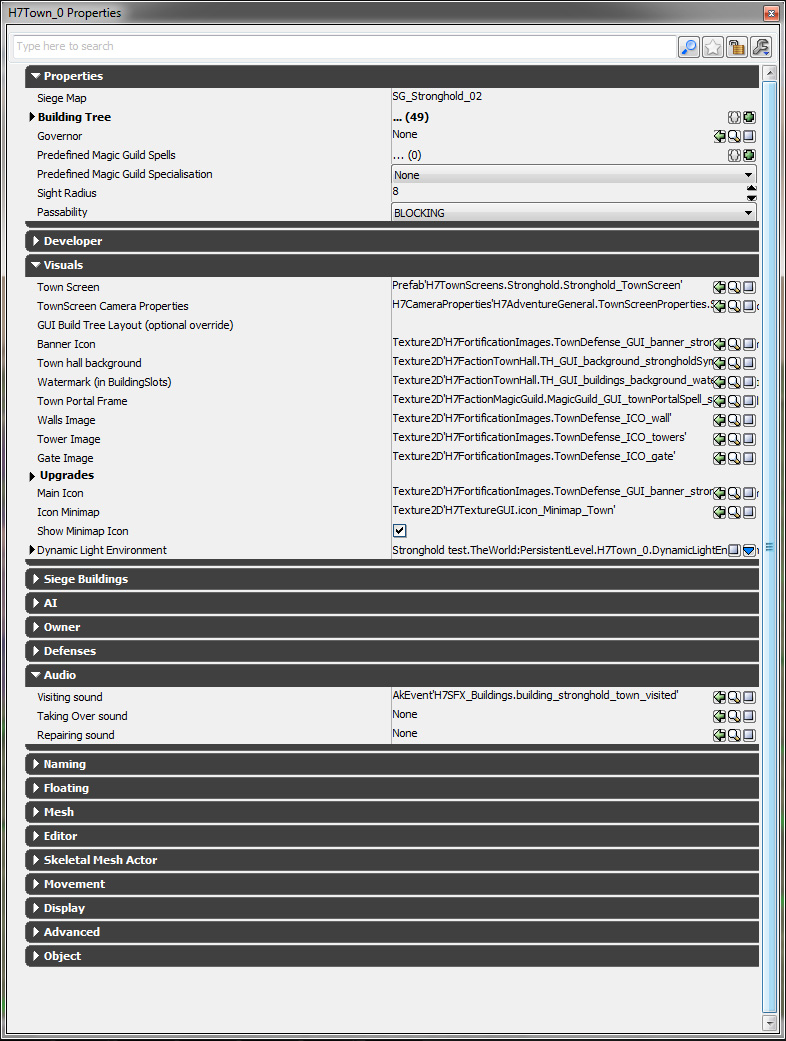 Extract of a Town properties
For now, let's stick again to visual modifications for both adventure map models and townscreen of this Academy n°2 town.

Thanks to my non-knowledge of 3D I will stay with a basic texture editing for the adventure map town building, just shifting some colors for the last time. Of course, if you have more time and are really creative, you will be able to create your own town design.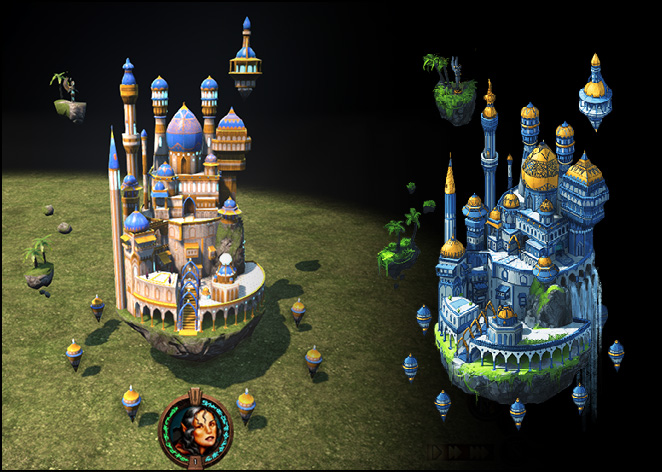 Let's replace the blue by gold (but I could also redraw some stuff, add details, change 3D model etc etc.).
Concerning the townscreen, you should be able to edit each element on its own and replace them as you please. For instance, this is the big advantage of 2D towns since it will allow real customization without extensive knowledge of picture editing.
I did a few tests while preparing this article but here are the main two ones I wanted to present you today:
- First of all, "Stronghold2" townscreen by night from
Jo3780
.
Unfortunately it was a bit difficult to really pay tribute to this creation from a single picture file but I hope this will give you a good idea of what is achievable here!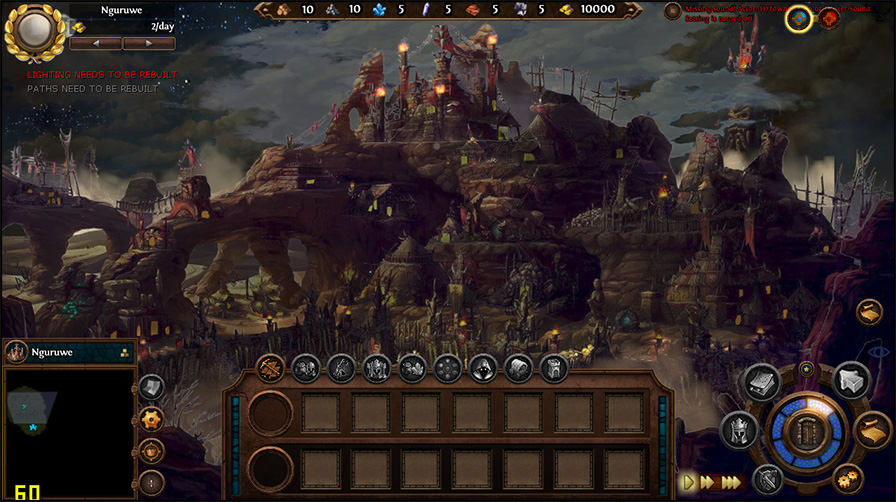 - And secondly, a special homage :) This is a first test I handled yesterday - I still need to reiterate to optimize the whole thing but what do you think? (all started with a duplicate of MMH7 Stronghold townscreen)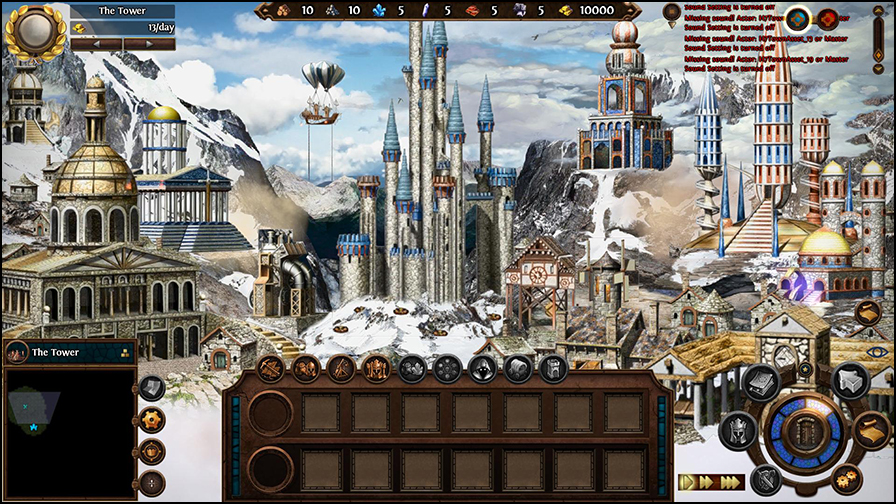 ---
Well, unfortunately that's all for today Councillors!

Even though this was only a very small glimpse of the editor possibilities, I hope this article will give you the motivation to unleash your creativity in Heroes VII.

We look forward to what some of you will create and discovering your projects that you will hopefully share with us all (already, I am starting to see some nice concepts out there!)

Ubi-Nox.