Vote for the Lich design! 03/25/2015 |

2755

comments
Update [2015/03/29]: Even if current vote results seems to be legit, we will operate a quick recount of vote ballots on Monday. We will confirm the winner of both votes with a dedicated article as soon as possible.
---
Hello Councillors,
A few weeks ago, we announced the complete visual rework of 2 creatures from Necropolis line-up: The Lich and the Vampire.
Taking your comments into account and picking from the best of our universe, we started to work with our artists to propose 3 meaningful options.
Since this rework decision was initiated from community feedback, we also decided that this council will be the one, which makes the final choice through a new vote for the game.
Cast your vote today and decide the next design of the Lich and the Vampire in MMH7!
Those votes will take place in a single round, results will be hidden until the end of the vote and we will monitor duplicates accounts, as always. Choose wisely, following only your own opinion. This is your voice that matters today.

In the meantime, please keep in mind that the following pictures only are rough sketches that do not represent the final quality of the design. They will help us to define the general art direction of the unit. The winning option will be reiterated and customized in order to comply with the game art direction.
---
Vampire vote available here:
https://mmh7.ubi.com/en/blog/post/view/vote-for-the-vampire-design
---
Vote now for the Lich design!
Select between the following 3 options:
1. The Priest of Death
Reading unholy scripture from the pages of some ancient Book of the Dead or Libram of Last Rites, this priest of Asha invokes the darkest aspect of his Goddess.
2. The Undead Sorcerer
Having transcended the rules of Life and Death, this dark Wizard has forsaken flesh to the point of becoming a cadaver himself, in exchange of tremendous powers.
3. The Ancient Mummy
This Undead priest has been around since the early days of the Spider Cult. Only bandages and rituals keep his rotten body in one piece, and he hides his desiccated face under a mask.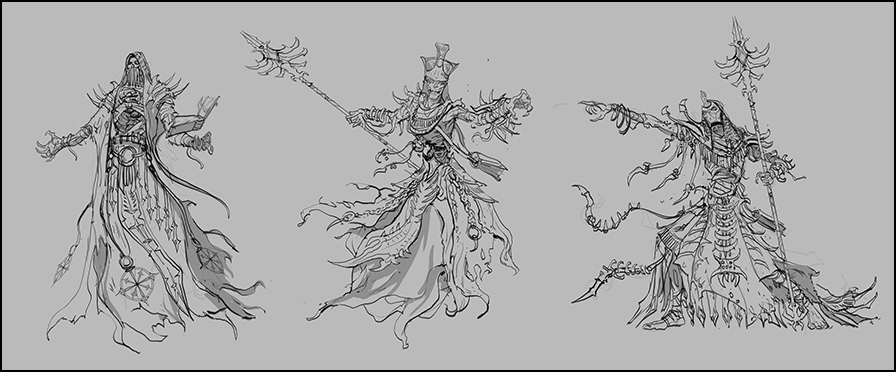 End of the vote: March 29th, 23:59 CET